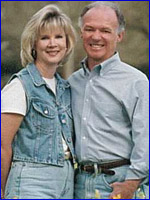 Andrew "Sonny" Garcia
62 years old
Portola Valley, California
Dorothy Garcia, Andrew's wife, received a call during the final minutes of the United flight that she believes was from her husband. There was so much static in the line, however, that all she could make out was a voice that appeared to say, "Dorothy." Then the line went silent.
This photo shows Dorothy and Andrew.
Click here for a USA Today story
A neighbor of Andrew Garcia's daughter has created this touching Web site: KellysDad.com.
For the Pittsburgh Post-Gazette's biography of Andrew Garcia, click here.