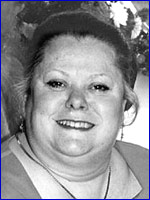 Marion Britton
53 years old
Marion Britton grew up in Queens, New York. She worked as an accountant early in her career and then left to work on the 1980 Census. In those early years at the Census Bureau she was known to visit struggling families to ask her questions, and then return the next day with gifts of food or clothing. Over the years she rose to become an assistant regional director for the U.S. Census Bureau.
"My son used to say she was his fairy godmother," said her brother, the Rev. Paul Britton of Huntington Station, N.Y. "On any holiday, Marion was like a bag lady, pulling out gifts that were precious and something delicious -- Italian or German pastries or New York cheesecakes she'd bring along."
For an Adobe PDF poster from the Department of Commerce dedicated to Ms. Britton and that of her colleague Waleska Martinez, click here. For information on donating to their family funds, click here.
For the Pittsburgh Post-Gazette's biography of Marion Britton, click here.