Honor Elizabeth Wainio
27 years old
Watchung, NJ
Honor Elizabeth Wainio was a district manager for the Discovery Channel stores.
Elizabeth's stepmother in Baltimore reportedly received a call from Elizabeth on a phone lent to her by Lauren Grandcolas and told her, "I've got to go now, Mom, they're breaking into the cockpit."
The following obituary by Gail Gibson was published by The Baltimore Sun:
Born in Baltimore, Honor Elizabeth Wainio grew up in Catonsville and went to college in Towson. A district manager in New Jersey for the Discovery Channel's retail stores, she was traveling on Flight 93 Tuesday morning from Newark for a meeting in San Francisco.

Ms. Wainio, who lived in Watchung, N.J., was 27.

A 1991 graduate of Catonsville High School, she earned a bachelor's degree in communications from Towson University in 1995. She had worked in retail stores during college and had developed a great interest in what it took to make a store successful, said her stepmother, Esther Heymann of Catonsville.

Ms. Wainio, who helped oversee the 1999 opening of the Discovery Channel Store at Harborplace in Baltimore, truly had a deep joy of living -- "joie de vivre," her stepmother said.

"She was just one of the most enthusiastic people," Ms. Heymann said. "She treasured and cherished her friends."

Besides her stepmother, Ms. Wainio is survived by her father, Ben Wainio of Catonsville, and her mother, Mary White of Port St. Lucie, Fla., a brother and a sister.

On Sunday, Ms. Wainio had returned from a two-week trip to Europe, where she had attended the wedding of longtime friends in Florence, Italy, and visited another friend in Paris. Ms. Wainio had told Ms. Heymann the trip was fabulous.

"She said, 'After Paris, what else could there be?'"
A childhood friend of Elizabeth's, Charles McElhose Jr., has created a special tribute to her and the other heroes of Flight 93 -- "Elizabeth's 'Honor' flag." Charles writes:
"It is a Gadsden with a blue field depicting a large star representing the life we will remember, 27 stars for each year of her life, and her first name, Honor. The flag will mean all the things the Gadsden flag meant (our unity, strength, and resolve) and shows both specific memory of my lost friend with the additional message of our acknowledgement of the honor that all of the passengers on her plane showed.

"I would be honored it you would use it on your site and offer it to people to use for the intended purpose of printing it out for display in their cars, windows, etc. to show their memory of my friend and the people on that flight, and that they stood up in the face of terror and brought it down."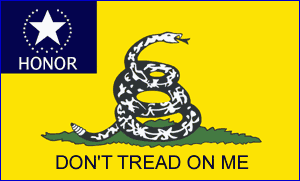 Click here for Charles' high resolution version of the flag, suitable for printing.
For the Pittsburgh Post-Gazette's biography of Honor Elizabeth Wainio, click here.